Replacing blocked sewer drains in Canberra & Queanbeyan
We are professionals at clearing & unblocking sewer pipes & drains or replacing blocked sewer drains when they cannot be cleared. We will even re landscape.
We have unblocked more than 16,000 sewer drains
Don't put up with the inconvenience and health risks associated with blocked sewer drains
Get professional plumbing help today 0448 844 911
Blocked sewer drains can be inconvenient and they can be a serious health risk. There are 6 things you should know about clearing or replacing blocked sewer drains in Canberra and Queanbeyan
1. The Australian Standards for Sanitary Plumbing & Drainage (AS/NZS 3500) requires all sewer drains to be fully functioning and sealed to prevent sewerage getting into the surrounding soil and ground water and to prevent ground water entering the sewer system. Therefore, every drain that is broken, torn, collapsed, has tree roots in it or is overflowing does not comply to these standards.
2. We have been drain cleaning in Canberra and Queanbeyan since 1992. In that time we have cleared more than 16,000 blocked sewer and stormwater drains. Most sewer drains are laid in VCP (clay pipe). Of the 16,000 drains we have cleared, 95% of them are successfully cleared within 1 hour.
Even though we have the latest electric eel drain cleaners, hydrojet high pressure water jet blasters and CCTV drain cameras, some drains just cannot be unblocked. This is because the drain has collapsed or something solid like a fragrance holder, garden sprinkler or a child's toy has lodged down the drain. UPVC (plastic) drains can also become blocked because of tears in the fittings and squashing.
Typical causes and the remedy for sewerage systems that cannot be unblocked.


Fig.1) A clay sewer drain that has blocked because it has collapsed. This is usually caused by tree roots, heavy vehicle traffic, poor installation techniques or subsidence.
Fig.2) A sewer drain that has been choked because of a solid object like a child's toy or garden sprinkler. No drain cleaning machine will cut through these objects.


Fig.3) Excavating a blocked or broken clay sewer pipe.
Fig.4) Replacing a section of clay sewer pipe with a new section of UPVC sewer pipe.
3. When we cannot unblock your drains using a jetter or an electric eel, we find the precise location and depth of the problem using the latest CCTV drain camera technology. With this information we can give home owners an accurate quote for the cost of the sewer replacement or repairs. If your plumber cannot give you an accurate location and depth of the problem they will not be able to give you an accurate quote.
4. If you accept a quote from us we will undertake all of the DBYDs (locating of nearby underground services), saw cutting of concrete paths and driveways, the careful removal of your precious plants and shrubs and the removal of garden edging.
Once we have completed the repairs to the AS/NZ3500 we will re-landscape, re-concrete and clean up the site. This means you don't have to arrange other trades to complete the restoration of the gardens, paths or driveways.
5. Many of the drains we clear have had multiple blockages. When we attend your home or business to clear blocked drains we try to ensure that we put the drain cleaning machine through every external access point in your drain.
When we get to the last accessible access, we run the eel or jetter all of the way to your connection with ICON Water or Queanbeyan Council's sewer main. This ensures that every accessible section of your external drain pipes are thoroughly cleaned and your drains stay unblocked for longer. If your plumber has not done this in the past he or she is not doing an honest job.
6. Digging up and replacing sewer drains should be a last resort for any plumber. Try to be onsite when your plumber is clearing drains for you. If they charge by the hour ask them to at least spend all of that time ensuring your sewer drains are thoroughly cleaned. Don't let them leave before the hour is up if they have not been through every access or section of your sewer drain.
Don't use inexperienced or lazy plumbers to clear or replace
your sewer drains- the risks and costs are too high.
Call 0448 844 911 for professional plumbing help today.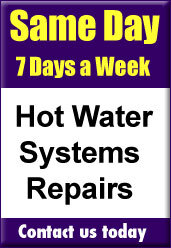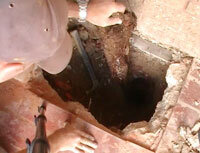 Removing tree roots from a blocked toilet in the Woden Suburb of Pearce. A small hole for a major problem.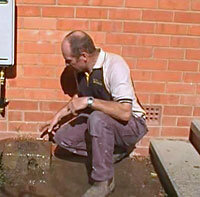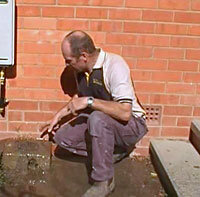 Over flowing sewerage near the back steps. Lucky the children were not playing in this Queanbeyan back yard.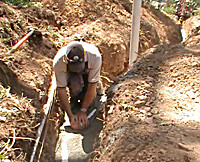 Replacing a 120m long sewer drain in the Belconnen suburb of Aranda.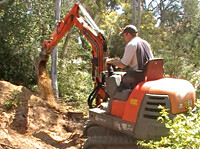 Small excavators to protect your gardens and paths.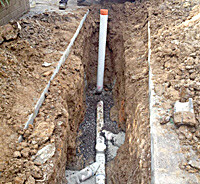 New drain under a driveway in The Weston Creek suburb of Duffy.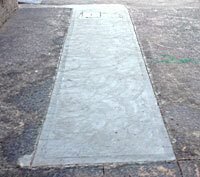 Re-concreting after replacing the sewer drain in Duffy.