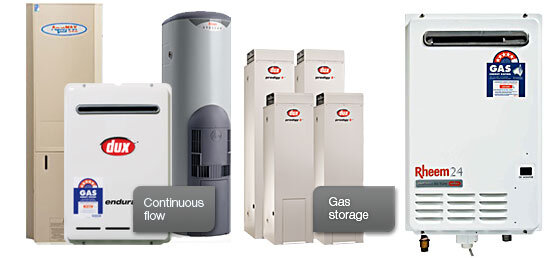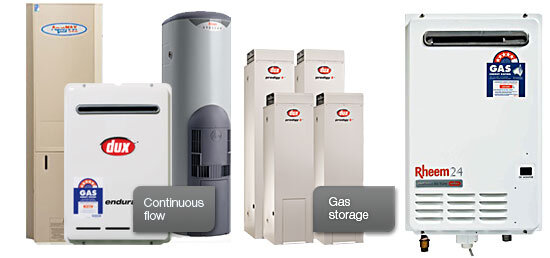 Gas Storage Hot Water Systems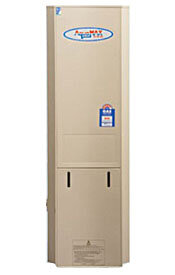 Aquamax Gas Storage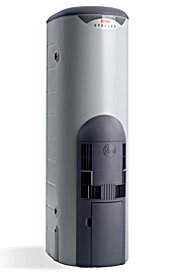 Rheem Gas Storage
Dux Gas Storage
---
There are many brands and sizes of gas storage systems that are suitable for installation in Canberra.
Gas storage is generally good for the environment with a lower CO2 output than electric storage and electric continuous flow hot water systems.
Running a gas hot water system on LPG can be expensive. However, all Natural gas hot water systems are cheaper to run than a typical electric hot water system. High efficiency Natural gas hot water systems can have a lower cost over the life of the system when compared to most solar hot water systems.
Heating water with gas is extremely safe and efficient. However to ensure they remain safe , all gas hot water systems are governed by strict installation rules. It is law that they are only installed or serviced by a licensed gas fitter.
Water Misers.
Given the rising cost of water it can actually be cheaper to buy own and operate a 5 star storage hot water system when compared to gas continuous flow and gas boosted solar. Approximately 1200 litres per annum of hot water is wasted from the relief valve of a storage hot water system. However, 15,000 -20,000 litre per annum is wasted due to the cold start that occurs in a continuous flow hot water system.
Energy efficiency
Some models of storage systems are more efficient than some gas continuous flow hot water systems. Continuous flow gas hot water systems can require 5 times the amount of gas when they are operating than a storage hot water system.
Most also require an electrical supply to run the electronics inside. Gas storage systems require a standing pilot and they store the hot water inside. Despite popular belief the heat from the pilot does not go to waste. It is absorbed into the water.
The water in the storage tank does not go cold quickly either. Gas storage hot water heaters work like a hot water thermos. The hot water is under pressure and the storage tank is well insulated. The hot water produced in one heating cycle can last days at temperatures too hot to shower in. However, the hot water sitting in the tubes of a gas continuous flow system will go cold quickly as they have very little insulation surrounding the heated water tubes.
Advantages
Most are designed for outdoor installation.
High efficiency gas storage systems can fully recover within 40 minutes.
Good for the environment when compared to electric hot water systems
Cheaper than solar with a similar carbon footprint
Easily repaired and repairs are inexpensive
Hot water is always delivered at a constant temperature
Can run multiple showers at the same time
Long life.
Require a small gas pipe
Do not require electricity
Disadvantages
They take up more space than gas continuous flow hot water systems.
The hot water supply is not endless
6 Star Hot Water and Plumbing Canberra can supply all sizes and brands of gas storage hot water systems. So Get a Quote or – just call 0448 844 911 for same day hot water replacements, service and hot water repairs.
You can get a quote on line or speak to a qualified tradesman
now by calling 0448 844 911