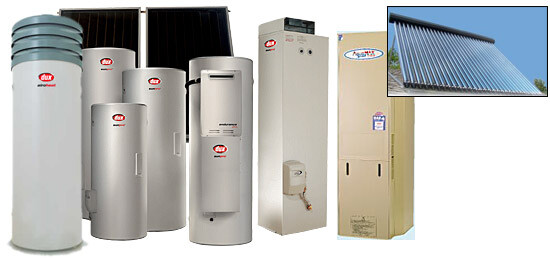 Hot water systems that are energy efficient to save you money.
Hot Water Systems
There are many brands sizes and types of hot water systems available for installation in Canberra. You may want a new electric hot water system or a gas hot water system. You may be looking for a conventional solar hot water system or heat pump.
There are many reasons why you would choose one type over another. You may be limited for space on the ground or on your roof. You may not have access to gas or your roof may be overshadowed.
You may want to look after the environment or you may have a limited budget. Your family may be large or it may be small.
Rather than replace your hot water system you may just want to have your existing system repaired or serviced.
There are 4 distinct types of hot water systems that can be installed in Canberra.
Click on the links below to find out more about each type.
Also find out more about the sizes and brands
Each one of these has their own variations to suit every application. However, there are some restrictions on what type you can have and where you can have them in Canberra.
For example wood heaters are banned in a lot of the newer suburbs. Electric systems have been banned in new dwellings also – heat pumps excluded. Some developments do not have gas connected and some have body corporate restrictions on solar hot Water installations also.
Boiling water units are used in commercial buildings for cups of tea. They are not used for filling sinks or basins as the water is too hot.
6 Star Hot Water and Plumbing Canberra can help you work out which type of hot water system will best suit your needs and budget.
6 Star Hot Water and Plumbing can help with all of your hot water needs in Canberra.
We pride ourselves on providing expert advice and efficient hot water service.
Get a Quote or – just call 0448 844 911 for same day repairs, replacements and service.
Hot water repairs and service Canberra
Hot Water System replacements
brands of Hot Water Systems
We have put together a series of pages that will help you to gain a greater insight into the pros and cons when deciding on what brand and type of Hot Water System to install for your environment, interests and budget.
Boiling Water Units
Brands of electric hot water systems
Gas Hot Water Systems
Brands of Gas Hot Water Systems
Sizes and about Gas Hot Water
Brands of Solar hot water
Types of hot water systems, repairs, replacements and all brand names
You can get a quote on line or speak to a qualified tradesman now by calling 0448 844 911
Our Guarantee
If it is an emergency and you call now and mention this web site we guarantee to be there within 1 hour. Not only that we guarantee to clean up after ourselves and that you will feel you have received good value for money in all your plumbing, drainage and hot water systems needs.
Hot water system replacements and repairs in Canberra. Call 0448 844 911 for help today